References
Lyon's Festival of Lights in 2004, retelling the story of the Rhône with light
Download the PDF
On its 40th birthday, LEC looks back at its contribution to lighting with François Magos: Lyon's Festival of Lights in 2004, illuminating the banks of the Rhône using LEDs.
« It was a first using LEDs in a festive setting, with softer and subtler light levels than usual. »
François Magos - Lighting Artist
For Lyon's Festival of Lights in 2004, François Magos wanted to recount the story of the river Rhône.
Since the water comes to Lyon from the Alps, he envisaged smart installations inspired by flora and fauna that linked to the city, as well as a sound and light performance along the banks.
He remembers his festive creation that was 100 % original, tailor-made and technically innovative.
François Magos recalls his collaboration with LEC
I like using light to give a venue a unique night-time ambiance and bring out its idiosyncrasies. My aim is to stimulate and awaken the imagination of the spectator, visitor or user.
For Lyon's Festival of Lights in 2004, I was lucky enough to be given the chance to create a 100%-original LED installation as part of the experimental development of the banks of the river Rhône, initiated by Roger Narboni, the event's artistic director at the time.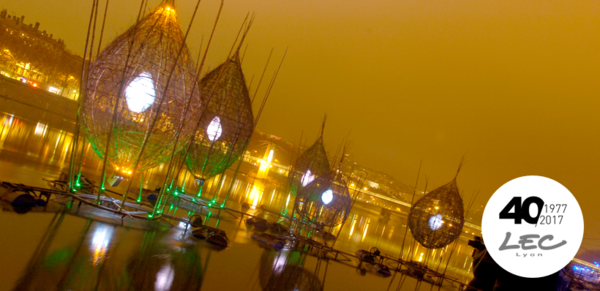 Lyon's Festival of Lights in 2004, a first trial of using LEDs in a festive setting.
A tailor-made light performance
I was contacted to work on this project and I called LEC who was a partner. Together we selected the technical equipment needed for my idea, and they met every one of my requests.
In 2004, LEC was not only the market leader, but also a pioneer in LED lighting. Its technical expertise was everything I expected and more, and I didn't need to look else to make savings.
The result was extremely avant-garde because every aspect of the luminaries was controlled, most notably the changing of colours. We worked together to create a tailor-made luminaire that lit up from the inside and changed colour when the staged elements inflated and deflated.
⇒ Did you know?
In 1977, LEC decided to focus all its attention on LED technology. These decades of dedicated expertise have allowed the company to meet strict requirements in terms of reliability, efficiency, maintenance and aesthetic appeal. Relive with us 40 historic years devoted to LED technology and the lighting industry.